"Once you have tasted flight, you will forever walk the earth with your eyes turned skyward, for there you have been, and there you will always long to return." ~ Leonardo da Vinci
I have always been inspired by flight, and one day I aim to get my flying license.  In the mean time I settle for going to airports and visiting local Air Force museums.  I will always be amazed with man's ability to defy gravity!  I have included some of my all time favorite planes, ships, and spacecraft from real life to science fiction.
My favorite plane of all time is the F-14 Tomcat.  I am not really sure why, maybe because one of the first movies I ever watched was Top Gun!  One thing I do know for sure is that my favorite toy growing up was based on the F-14.
I still remember to this day the Christmas morning I woke up to see what Santa had left under the tree- my very own GI Joe F-14 Skystriker:
I would spend hours at a time dreaming I was the pilot fighting against the evil forces of Cobra and the Decpticons from Transformers.  It was my version of the mixing of the genres of cartoons that I watched every Saturday morning!
Star Trek  was an evening ritual at our house growing up.  Watching Kirk, Spock, and McCoy travel the universe "exploring strange new worlds. seeking out new life and new civilizations, boldly going where no man had gone before."  So of course the Enterprise will always be one of my favorite sci-fi spacecraft favorites.
Growing up a Maritimer from Nova Scotia, we are often hailed as "Bluenosers.  I like to think that it is because of the beautiful ship, The Bluenose in which we are content to keep this nickname.
In recent years I have become a fan of the mini-series (1 season + movie called Serenity) Firefly.  Nathan Fillion, current star of Castle was first known as Captain Malcolm Reynolds.  Captain of the spaceship known as Serenity.  Serenity was not a super fast ship, but it had character, much like the crew that called her home!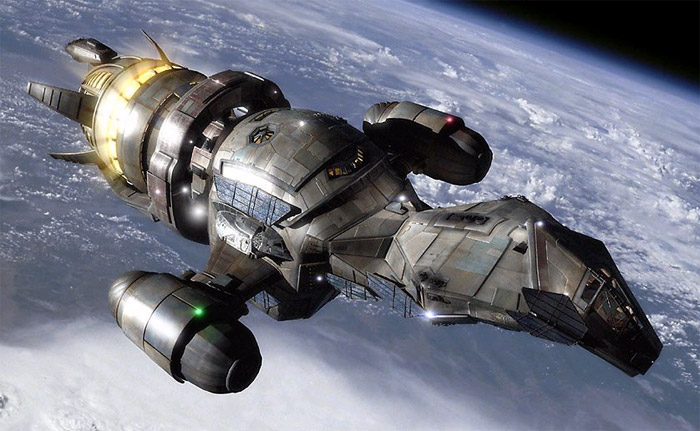 Another great Science fiction series was Battlestar GALACTICA.  Galactica is one of the most fierce battle class ships of all sci-fi adventures.  With the recent series, it inspired a new genre of space science fiction adding a reality of humanity to all characters involved in the story, whether they were human or cylon.  I loved the way humanity is viewed in this series, and if you have never watched it- you should give it a try!
The P-51 Mustang is a beauty on its own!  I love the styling and abilities of this hero of  WWII.  The true heroes of course were the pilots, and the men and women who kept them in the air to fight another day!
Another favorite sci-fi movie is Star Wars.  George Lucas created some of the most interesting spacecraft in the science fiction genre.  One of my favorites is the always intimidating X-wing fighter which kept the Rebellion in the war:
Another hero from WWII is the enduringly faithful RAF Supermarine Spitfire:
And last, but certainly not least, the infamous Stargate Atlantis Gateship, as Canadian Scientist Rodney McKay named it, or better known from Colonel Shepherd as the Puddle Jumper:
These are a few of my favorite flying/sailing ships that allow me to keep reality in perspective, to live is to dream and to think is to create!
~Esse Realis